Your simple guide to protecting your family and home from the uncertainties of Spring weather.
Smoke Detectors: The changing of the seasons is a perfect time to change the batteries in your smoke detectors. Inspect each smoke detector and test them monthly. Adding smoke detectors is easy and one of the cheapest home improvements you can do. It's a good idea to have a smoke and CO2 detector in every bedroom and on every floor of your home. There have been a number of "smart" smoke and CO2 detectors come onto the market recently, click here to check them out.
Fire Extinguishers: Check your fire extinguisher and all its parts at each Spring. Most importantly check that the pressure gauge is in the "green" range. Having a fire extinguisher on every floor of your home is a great idea and make sure everyone in the home knows where they are. There was recently a MASSIVE recall on fire extinguishers, check here to see if yours was recalled and see if you are eligible for a free replacement.
Dryers: Dryer lint is one of the most flammable things found in your home. It can build up inside your dryer, in the vent pipe and collect around the duct. Its best to unhook your exhaust vent and visually inspect for any lint. Use a specialized brush to clean out the vent pipe, and any other areas you find lint buildup. Professional cleanings are also an option and can you save time and money. Check out this Consumer Reports link for more info on protecting your family from dryer fires.

Sump Pump: If you have a sump pump test it by pouring a few gallons of water into it and making sure it properly removes it from the reservoir. Exterior sump pump drains often become disconnected. Here are picture examples of what to look for outside your home to make sure the water discharging from your sump pump is moving away from your home. The picture on the left is not connected and the one on the right is properly connected.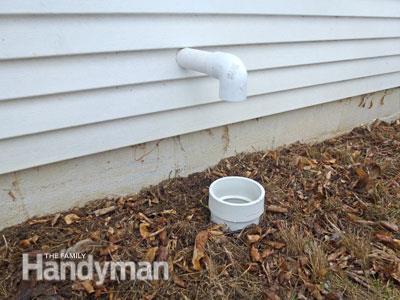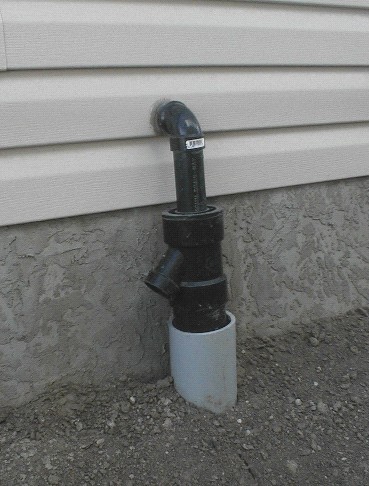 Roof: Check your roof for any damage caused by snow or ice. If you can't do this easily from the ground please let me know and I'll be happy to bring my drone over to get a better view. If you see any moss or algae growing on your roof attention is needed. Here is what a roofer says is important to look for when personally inspecting your roof.
Gutters: Clean all debris from your gutters and downspouts to keep good water flow and reduce the possibility of damage. Check for loose or leaky gutters, unfortunately best done during a hard rain storm, you'll get a little wet but its really the only way to check to see how well everything is working. Clogged gutters or improper drainage often leads to water coming into your home which is not good! Also, having a company professional clean and inspect your underground plumbing is worth doing every couple years. Consider installing gutter guards if your gutters are notoriously difficult to keep clean. Angie's List has a pretty comprehensive list of DIY gutter guards and their pro's and Con's
Properly Grade the Soil Around Your Home: Low areas next to your home's foundation should be filled with compacted soil. Spring rains often cause yard flooding, which can lead to flooding in your home and costly damage. Also, water can pool in these low areas in summer and create a breeding ground for mosquitos. Check out this graphic for a visual representation of proper grading.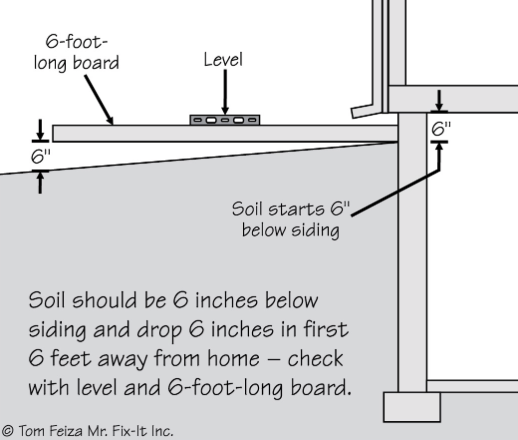 Check Outside Faucets: Check outside hose faucets for damage from freezing water. Turn the water on and cover the opening with your hand. If you can completely stop water, it's likely the pipe inside your home is damaged and will need to be replaced. If you turned the water off inside your home remember to turn it back on before testing. Leaking faucets cost you money and keep moisture close to your foundation and should be fixed.
Service Your AC Unit: Before turning it on for the season, have a qualified heating and cooling contractor clean and service your air conditioning system. Annual service ensures the system is working properly and efficiently. Many companies offer specials during spring that will save you a little money on this service.
Lawn Equipment: Make sure lawn mowers and other battery and gas powered equipment are tuned up and inspected before using. Sharp lawnmower blades are best for grass and most local hardware shops can sharpen your blade for less than $15. Most experts recommend sharpening your mower blade multiple times each season.
Windows: Cold weather can cause seals to loosen, harden or crack. Windows can let in air and water when not properly working. Check seals and caulking is still doing their jobs. Don't forget to also check your weather stripping around your doors. This will not only make sure your home in protected from the elements and also save you money in energy usage.
Clean your Window Wells: A clogged window well can quickly escalate into a much larger water problem inside your home. Window wells need to be able to properly drain to prevent water from entering your basement. A surefire way to know if your window wells are leaking water into your basement is to look pervious evidence of on the inside, like in this picture. Also, you can consider upgrading to glass block windows in your basement. They provide better protection from the elements and more secure than traditional windows.